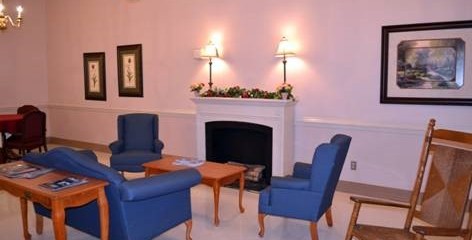 Accommodations
Resident Rooms
Our resident rooms are tailored to meet individual needs. We have spacious semi-private rooms to accommodate two residents, several private rooms for those residents preferring their own space, and an entire wing of large, private short-term rehab rooms that include flat screen televisions and large, comfortable recliners.
All rooms have free cable and Wi-Fi for residents and their families to enjoy. We encourage our residents to individualize their space with items from home, creating a warm, home-like environment for their comfort and quality of life.
Short-term Rehab Wing
At Franklin Oaks Nursing and Rehabilitation Center, we understand that individuals have individual needs. Some of our residents are here to make Franklin Oaks Nursing and Rehabilitation Center their home, while others only need a short-term stay to receive rehab services. We have dedicated an
entire wing of our facility to those individuals seeking a short-term stay in order to receive services aimed at getting them well before returning home to live. The residents residing on this wing are here anywhere from one week to six months, depending on their needs. The rooms on this wing are very spacious, private, and include flat-screen televisions and large, comfortable recliners. Residents spend their days going back and forth to the therapy gym, focusing on their ultimate goal of returning home. We have a lot of success stories coming out of our short-term rehab wing!
Solariums
We encourage our residents to socialize, both with each other and with their families. For this reason, each of our halls has its own solarium, spacious and furnished for comfort. Each has a television with cable provided. At the front of our facility, we have a large sitting room with couches, tables, and a variety of chairs (see photo at top of page). The room is complete with a fireplace and mantle to enhance the home-like environment our Franklin Oaks Nursing and Rehabilitation Center family strives to maintain. This room is large enough for special events, and reservations can be made for family parties upon request.
Dining Options
Our fine dining experience is a resident and family favorite. Residents choosing to dine in the dining room with us enjoy lunch and dinner seven days a week. Recognizing that atmosphere is key in this experience, we emphasize the look and feel of dining in a restaurant, complete with décor and music. Soup, bread, coffee, and beverages are served before each meal, and staff serves as waiters throughout the meal. Upon request, families can dine with their loved one in a designated area set up especially for this purpose.
Activities
Our facility provides and encourages our residents to actively participate in activities functions such as games, music, religious services as desired, and entertainment. This encourages socialization and a sense of community for our residents.Franklin Oaks Nursing and Rehabilitation Center employs three full-time activity staff members, whose sole
purpose is keeping our residents entertained, engaged, and active in activities of their choice. The activities department offers a wide variety of activities to choose from, including crafts, BINGO, socials, games, regularly scheduled religious services, men's groups, ladies' luncheons, outdoor activities, plus a whole lot more!
For those Residents who prefer one-on-one interactions in a private setting rather than group activities, our activity staff makes in room visits, offering socialization, games, or reading on an individualized basis.